Last updated on November 14, 2023 5:06 pm
Add to wishlist
Added to wishlist
Removed from wishlist
0
Add to compare
Namibia is known as one of Southern Africa's most sparsely populated countries and is dominated by the Namib Desert. It's a spectacular yet mysterious country that boasts plentiful wildlife, ancient rock art, intense arid landscapes, and golden sunsets – where the dunes meet the ocean.
This is the ideal destination for travelers seeking the ultimate African experience. Explore a Namibia National Park safari experience or the country's capital city, Windhoek.
The best destinations Namibia has to offer start at adventure town Swakopmund to uncover the remains of Namibia's German influence. It's reflected in the culture, language, cuisine, and the famous annual Windhoek Oktoberfest.
Visit Namibia to experience a variety of different options; suited for families and romantics alike. Take the family out to view the abundant wildlife or spoil your significant other to a honeymoon in Africa. Keep reading below to compare and explore safari tours in Namibia.
Highlights:
Explore a vast range of wildlife
Enjoy a scenic drive through the spectacular Namib Desert
Get a true African safari experience
Know before you book:
Ensure you have plenty of sunscreen
Bring a flashlight
Wear comfortable clothes and shoes
Enjoy the splendor of the Namib Desert while driving through vast rolling sand dunes that meet the ocean. The best Namibia safari tours offer guests a range of the world's most beautiful wildlife destinations and access to some of the most remote places on the continent.
Some popular safari parks include the Sossusvlei, Damaraland, Skeleton Coast Park, and Etosha National Park.
Namibian Safari Prices
The cost of ticket prices can start from around $32 USD per person (R1960,16) to the most extensive tour starting at $3112 USD per person (R46212,27). Other mid-range tours vary from $88 USD per person (R1306,77) to $170 USD per person (R2524,45).
Prices are dependent on the duration of your safari in Namibia, what it includes, and where you would be going. Compare prices across the ticket providers below: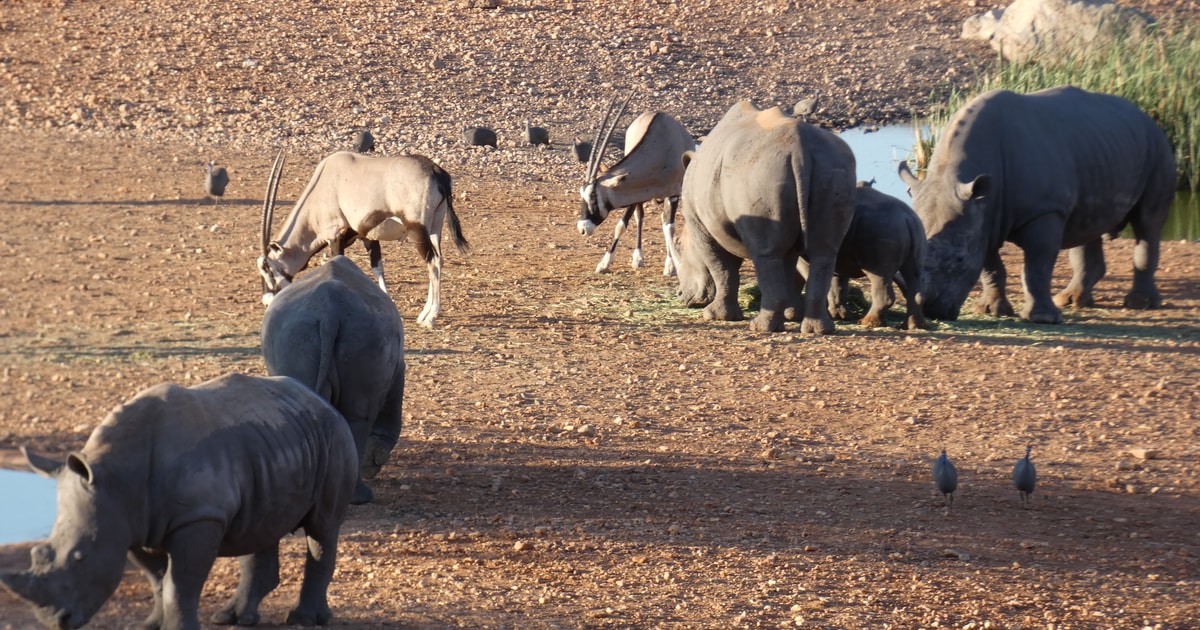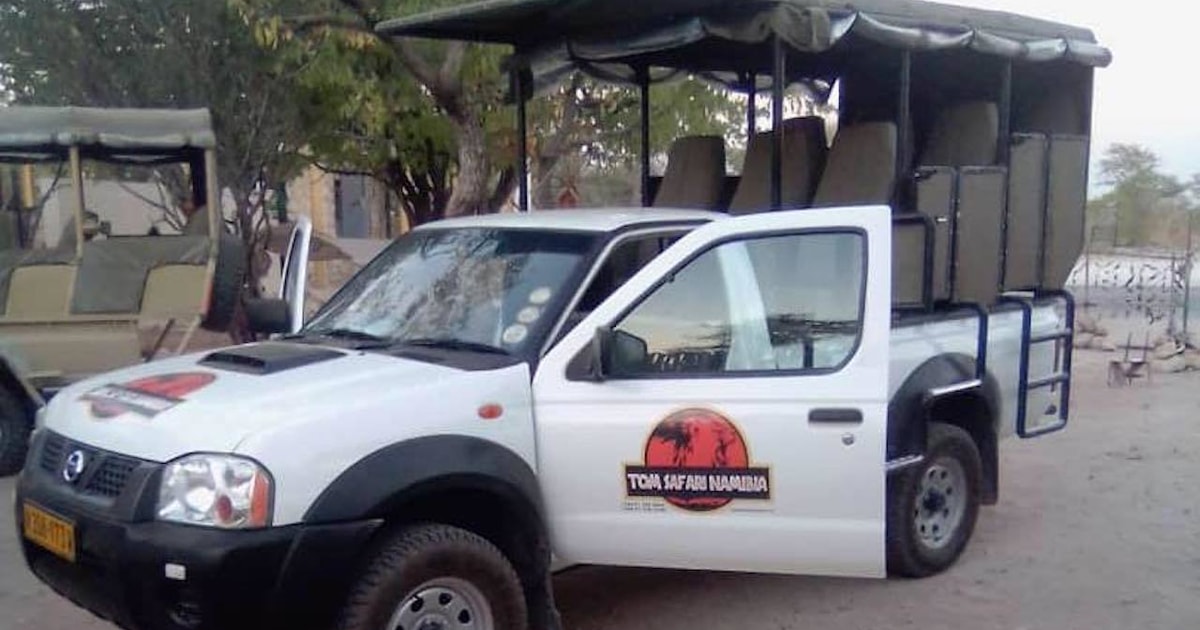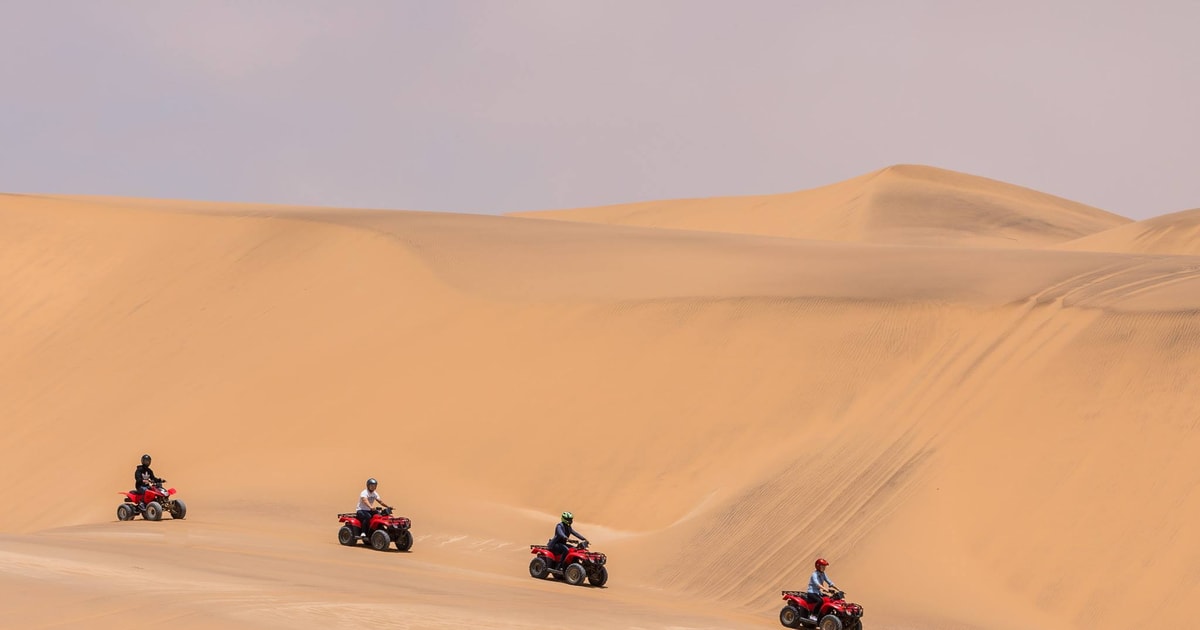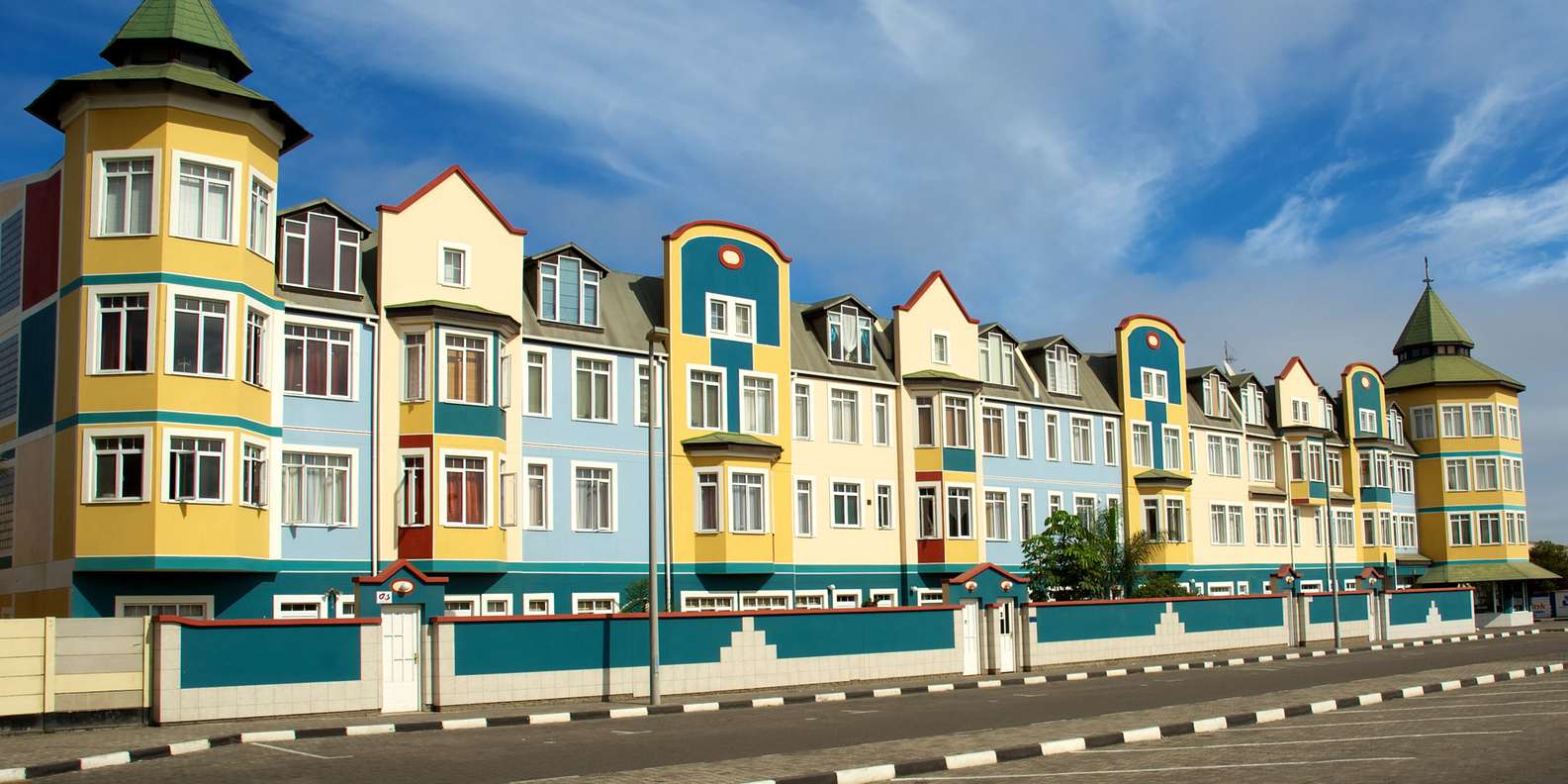 Namibia Safari Best Time For Drives
The duration and times of the tour will vary depending on what tour option you will be choosing. Traveler pickups are also offered. You will be assisted with expert guides to give you the best experience possible.
Most drives either start early in the morning at 07:30 for the earliest, while most of them start from around 08:00 or 09:30. This is perfect for a morning adventure through your favorite safari destinations as you will be able to continue with afternoon drives from around 13:00.
Best Time to Go on Namibia Safari Vacations
The best time to visit this magnificent African country is usually from July to October; this is when the chances of heavy rains are low, and temperatures average above 20°C. These months are ideal for wildlife viewing, making it a peak travel season. You will need to book in advance.
The Namibian summer (November to April) offers clear blue skies and is hot, with cold nights. During winter, (May to October), it's still hot (being a desert and all) with spectacular thunderstorms. Predominantly, it's a dry country, where orange-hued dunes contrast with sapphire skies.
Namibia Safari Packages
Discover Namibia on an unforgettable safari that is best suited for you. Enjoy 4×4 rides over dunes, marveling at the haven for desert-adapted wildlife that supports one of the planet's most important ecological systems.
Most packages will offer everything you need from safari lodges to guided nature walks. Although, this is all dependent on which tour package you've chosen. Some packages are specifically focused on your favorite adventures like mountain climbing, mountain biking, sandboarding, or more relaxing walking safaris to track the desert wildlife.
While some of these packages are full-day options, it may be best to mix and match the half-day options together for a jam-packed Namibia safari.
How to Get to Namibia Safari Parks
Namibia is located conveniently on the Coast of Southern Africa. Bordered by countries like South Africa and Botswana, there are tons of opportunities to catch a flight to Windhoek or even drive into the best Namibia safari parks.
If you're coming in from cities like Cape Town or Johannesburg, you'll probably find yourself touching down in Windhoek, the capital city of Namibia. At the Windhoek Hosea Kutako International Airport, you'll easily be able to make your way around the various Namibia travel destinations either through chartered flights or rented vehicles.
Internationally, you can expect flights from British Airways, South African Airways, and Lufthansa. Although once you've landed, it may be best to rent a vehicle as chartered flights for a fly-in safari to locations like Swakopmund may become pricey and inconvenient for larger groups of travelers.
Most of your tour highlights will start in Windhoek. So be sure to check out the various car hire options before heading off to cruise places like Walvis Bay, Cape Cross, Skeleton Coast, or any other coastal town along the Atlantic ocean.
4-Day Namibia Safari Holiday – Starting at Etosha National Park
Take a 4-day tour from Windhoek to the Etosha National Park for some incredible desert-adapted wildlife viewing in one of Namibia's best wildlife reserves. Etosha is home to black rhinos, giraffes, leopards, lions, countless bird species, and some of the fastest animals in Africa.
Not only will you enjoy a game drive on a multi-day safari adventure but you'll also have the opportunity to delve into Namibian food. During your stay at luxury lodges or the best bed and breakfasts, you'll have an opportunity to sit around a campfire and share the stories of your African safari.
Over the next few days, see the Okaukuejo waterhole where some of Africa's largest elephants come to gather. You'll drive through the Damaralands farming community, stop at Ugab River Bridge, see the Brandberg mountain, and visit the Himba tribespeople.
For as little as $1750 per person, you can experience all of that as well as the Namib Desert, Swakopmund, and Skeleton Coast. With this tour, you're open to seeing all the wildlife from wild desert horses to elephants and so much more.
Your adventure activities wait on the best Namibia safaris.
What we liked: This is the ideal tour if you want to get a well-rounded experience of Africa and it's spectacular wildlife.
---
INCLUDES:
Nightly accommodation
Transport in a 4×4, air-conditioned vehicle
Game drives and picnics
EXCLUDES:
Gratuities
Personal insurance
Beverages
Check Price & Book
---
Etosha National Park Game Drive
Explore the Etosha National Park off the beaten track with this 5 or 10-hour tour of what Northern Namibia has to offer. Track desert elephants and explore Namibia safaris and wildlife.
For a great trip, your tour will be guided by an experienced professional that takes you around the watering holes where the wildlife goes to cool down from the afternoon heat.
For lunch, you'll head to one of the safari lodges for lunch. Make sure to bring your binoculars, sunscreen, and cameras with you to capture these fabulous Namibia tours.
What we liked: This is the ideal safari for adventurous outdoor lovers that seek a true sense of freedom.
---
INCLUDES:
Hotel pick up and drop off
Full or half day game drive
Water
EXCLUDES:
Park fees (80 NAD per person)
Food
Gratuities
Check Price & Book
---
Marine Big 5 Luxury Catamaran Tour
Check in at the Walvis Bay waterfront along the West Coast for a luxurious tour of the marine Big 5. From July to November you can explore the waters sporting the best the sea has to offer. From animals like dolphins, whales, and seals to mola molas and leatherback turtles.
Namibia tours of the ocean are an ideal adventure activity and the sea safari makes for a great trip. During your journey, you'll be able to observe a variety of bird species as well, so keep an eye out for cape cormorants, kelp gulls, and Hartlaub gulls.
What we liked: A unique ocean safari tour.
---
INCLUDES:
Coffee and Tea
Oysters and sparkling wine
A light lunch and beverages
EXCLUDES:
Hotel pickup and drop-off
Check Price & Book
---
10-Day Namibia Highlights Guided Tour
Explore Namibia's UNESCO World Heritage Site, the Namib Sand Sea, on an epic 10-day adventure safari. Enjoy the Sossusvlei Park and climb the famous Dune 45. You'll have an unforgettable experience camping in the outback of Africa and waking up to the most brightly colored sunrise.
In Windhoek, Namibia this 10-day pre-planned tour includes everything that you'd naturally have hoped to see, from coastal towns and desert walks to Etosha National Park. Explore the towering dunes with the guidance of a professional driver, guide, and problem solver.
This tour is perfect for anyone that wishes to remove the stress from planning. Even after booking, any issues during your vacation will be solved and seen by your driver.
What we liked: An entire vacation planned for you with no fuss.
---
INCLUDES:
9 nights lodge/guesthouse accommodation
Transport and professional driver/guide
All meals included
EXCLUDES:
Gratuities
Airfare, personal travel insurance and visas
Optional activities
Your itinerary includes 3 days in Etosha National Park, a day in the Namib desert, and Sossusvlei dunes. Thereafter you'll visit the UNESCO heritage site of Sand Sea. Then you'll discover the best attractions like Namib-Naukluft Park and Skeleton Coast, Moon landscape and Welwitschia Mirabilis, Cape Cross Damaraland, and Twyfelfontein Engravings.
Check Price & Book
---
Swakopmund Desert Quad Biking
Enjoy 3 hours of desert quad biking, perfect for solo travelers, groups, or the whole family. With a live tour guide, you can dash through the dunes, from Devil's Dip to the TableTop dunes.
The sheer thrill of the speed and revved-up engines not only explores the adrenaline junkie within but also provides you with a unique way to explore the Namib desert.
What we liked: Blasting your way through the sand dunes to see the view from Table Top. .
---
INCLUDES:
Helmet
3 Hour drive
Quad bike rental
Check Price & Book
---
Self-Drive Adventure to Sandwich Bay
Continue with your Namibia safari through the desert by 4×4. If you're a lover of powerful vehicles and trekking your way through unknown terrain, this is the perfect tour for you.
Here you get to drive into the Namib Naukluft National Park and discover Sandwich Bay. A mysterious beach, covered in salt pans and sand dunes. This delightful excursion takes you to where the Atlantic Ocean meets the sand dunes of this spectacular desert safari destination.
What we liked: A 5 hour adventure, leaving enough time to continue further exploration later in the day.
---
INCLUDES:
Lead guide vehicle and two-way radios
Recovery equipment
Permits
EXCLUDES:
Vehicle hire
Insurance
Fuel
Check Price & Book
---
Namibia safari tours offer an endless horizon of clear blue skies, orange-hued majestic dunes, adventure, culture, and enthralling wildlife. The many pristine southern Namibia national parks and game reserves boast a variety of wildlife ready to be enjoyed and snapped for your desktop screen saver.
PROS
Some meals included
Equipment included
Instructors are expert guides
Private tours are offered
CONS
Food could be limited
Some park fees are not included
Specification:
Best Namibia Safari Tours | Holiday Prices & Packages 2022
| | |
| --- | --- |
| Accessible | Not Specified |
| Duration | 1 – 10 Days |
| Excludes | Gratuities |
| Includes | Dependant on tour option |
| Meals & Drinks | Provided on select tours |
| Pickup | Provided on select tours |
| Suitable For | Couples, Healthy persons, Groups |
Best Namibia Safari Tours | Holiday Prices & Packages 2022